A VA Loan is a unique loan option that is available for qualified veterans, active duty service members and eligible spouses. It is a loan that is backed by the Department of Veteran Affairs (VA), and is offered with fixed or adjustable rates as well as several different loan terms. One of the unique advantages of a VA Loan is the option to not pay any down payment for qualified borrowers. This allows veterans, service members and eligible spouses the ability to get into the home of their dreams without having to put down a large sum of cash up front.
Possibility of no down payment

No mortgage insurance (For qualified borrowers)

You can use the VA loan more than once

Easier credit qualifications
Allows for a higher debt to income ratio than conventional loans

No prepayment penalties

Closing costs can be shared with the seller
If you are a veteran, active duty service member or an eligible spouse, you may be able to qualify for a VA Loan. Since these loans are guaranteed by the VA, lenders may be able to offer slightly lower rates than conventional mortgages. In addition, you may have the opportunity to pay no down payment and no mortgage insurance for the life of the loan. However, VA Loans do require a funding fee at closing that goes directly to the VA.
There are additional benefits available if you experienced a service-connected disability, such as being exempt from the funding fee and not needing to meet service requirements. VA Loans can be utilized for both the purchase of a new home or the refinance of your current home, and come in a variety of rate options and loan terms. The VA loan program helps thousands of veterans and service members to make the mortgage process easy and stress free.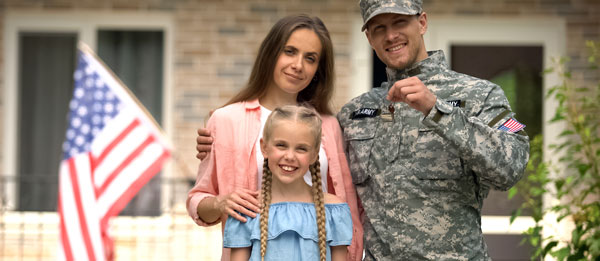 Reasons to consider a VA Loan
May not be required to pay a down payment

Do not need to pay mortgage insurance

Easier credit qualifications

Typically have lower rates than conventional mortgages

Guaranteed by the U.S. Department of Veteran Affairs
Not every loan option is right for every borrower. To get your questions answered and receive more information on what type of loan is best for you, contact us at 1-888-320-9343 or click the button below and allow us to help find a customized loan to fit your specific needs.